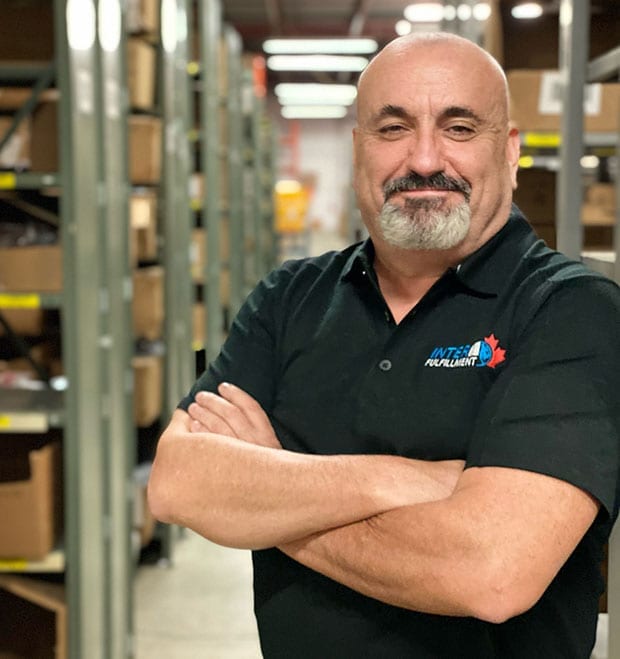 Kick off the career of your dreams!
InterFulfillment is an industry leader in eCommerce order fulfillment services, providing ideal shipping and warehousing solutions that have built trust and loyalty among our clients. Interested in accelerating your career with an ever-expanding company where you can learn and grow?
New positions are opening every day, which means new opportunities for you to join a team of truly extraordinary people. We are always looking for passionate people to add to our staff. Whether it is in our sales, marketing, support or warehouse departments, just imagine where your career can go with such a strong team behind you.
If you want a chance to become a member of our amazing team send us a cover letter and your resume to hr@interfulfillment.com or use the form below to apply online!

Client Success Representative
Develop strong relationships by providing assistance to our amazing clients.

Sales Executive
Join our enthusiastic sales team and help businesses find the right solutions.

Warehouse Associate
Work side by side with passionate and dedicated team members.
FULL-TIME WAREHOUSE ASSOCIATE
FULL-TIME CLIENT SUCCESS REPRESENTATIVE
FULL-TIME WAREHOUSE ASSOCIATE
Primary Tasks / Responsibilities:
InterFulfillment is looking for a Warehouse Associate. This role is also known as Shipper, Head Shipper, Shipping Coordinator, Warehouse Associate, Order Picker / Packer, General Labourer, eCommerce Fulfillment Associate, Warehouse Worker.
Purpose of this Position:
You'll play a key role in the success of our operations by ensuring all orders are shipped out accurately and efficiently meeting all critical deadlines. Cooperating in the areas of order fulfillment, you will use your strong technological and problem-solving skills as a part of our team of pickers, packers, and shippers.
Hours: 8:30 am to 5:00 pm Monday – Friday
Must be able to work Overtime, Saturdays and/or Sundays and Statutory Holidays
Compensation based on years of relevant experience $14-$19
What You Will be Doing:
Pick, Pack, and Ship: (You need to have attention to detail and sharp computer skills!)
Pick products ranging from 1-50 lbs consistently
Pack orders using Smart Pack technology
Follow customer-specific packing instructions
Process shipments via our multi-carrier software
Use the best pick, pack, ship practices
Learn new technology quickly and as needed
Other Shipper / Warehouse Associate Responsibilities: (You need to be a team player and have a good work ethic!)
Keep the warehouse clean and organized daily
Contribute to health and safety initiatives
Process inbound receipts when needed
Conduct cycle counts when needed
Investigate inventory discrepancies when needed
Unload containers when needed
Qualifications / Requirements:
Minimum of 2 years warehousing experience
Minimum of 1-year order picking (by hand) experience
1-2 years of eCommerce order fulfillment experience preferred
Raymond Reach and/or Counterbalance License and Experience a definite asset
Experience with shipping with Canada Post, UPS, Purolator, FedEx
Expertise in picking and packing product orders with extraordinary attention to detail manually and with RF Scanners
Solid English skills (speak, read, write)
Easily pick up new technologies and order management systems
Must be an independent and motivated self-starter with excellent time management and multi-tasking skills
Understand and utilize warehouse best practices and current regulations
Strong interest in Health and Safety initiatives and practices
Demonstrate sound judgment, problem-solving skills and a sense of urgency
Must be cooperative and work well in a team environment
Customer-focused attitude, with a high level of professionalism
Knowledgeable in MS Office Suite, Google Drive, Google Docs is helpful
FULL-TIME CLIENT SUCCESS REPRESENTATIVE
We are looking forward to working with you!
Apply using the form below and we will be happy to have a look at it and notify you as soon as any positions that fit your skill-set get added or become available.
All information provided will be kept confidential and only used to provide applicants with a free cost-analysis.